High Precision
PVC-U material could be processed precisely and the measurement of length, width has a tolerable value of +/- 3 mm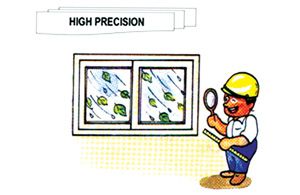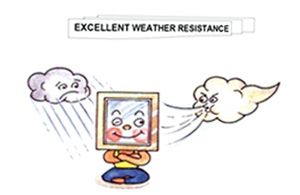 Weather Resistance
PVC-U Profiles are Specially Formulated to achieve a high resistance against UV attacks. It can withstand long exposure in extreme weather change under scorching sun, storms, dryness and high humidity. No bristling and quality deterioration occurs after over 50 years of usage..
Heat Insulation
In an air-conditioned building, windows with low thermal conductive material can reduce the loss of energy according to the fact at 37%. The intelligent selections in factors of the thermal conductivity are the material of the window profile and selection of the glass. The thermal conductivity of PVC is 0.13 kcal/m2 hr deg C and that is 1/1250 of aluminum which has 175 kcal/m2 hr deg. C PVC-U windows is 1.3 kcal/m2 hr deg. C while the aluminum sliding windows has 16.3 kcal/m2 hr deg. C ( the k values were obtained from actual windows ).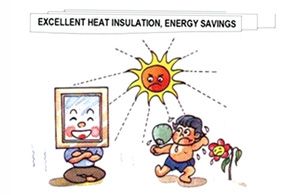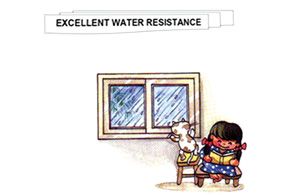 Execlent Water Resistance
PVC-U as a material absorb water below 0.1% moreover, the uniquely designed weep holes and weather-stripping provide water resistance. water infiltration test show NO WATER LEAKAGE for 10 minutes with 4-liter/min. m2 at the wind load pressure deference of the rating tested..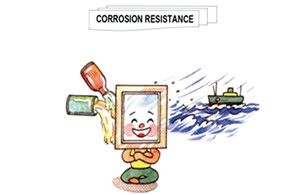 Corrosion Resistance
PVC-U Windows are free from the attack of acids, alkalis, waste gases and salts. It is corrosion resistant when used in saudi arabian environment with it's desert climate and high pollution exposure due ti heavy industries. PVC-U windows have proved to be excellent and most preferred in industrial factories such as breweries, textile and paper mills.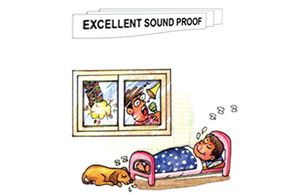 Execlent Sound Proof
PVC-U window material and the multi-chambered designed profile have tight seals, which are the best in noise reduction. An average sound separation of 22-25 dB is reached in 6mm glazing and 30 dB in double-glazing. it brings tranquility and cuts unnecessary disturbance that is why it is especially favorable to be used in Hospitals, Schools and office buildings. Moreover, after a day of hard work, you deserve to go home with best protection from exterior noise.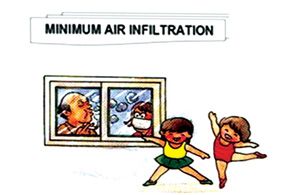 Minimum Air Infiltration
Imperious weather-stripping provides maximum seal. The experimental value per cracked meter length is 8 m3/hm2 for sliding window and 2 m3/hm2 for casement. This low air infiltration serves to increase the efficiency of air-conditioner hence, SAVES ENERGY.
Fireproof
The PVC-U material is an excellent fireproof material according to DIN 4102 for its non-spontaneous ignition and self-extinguishing characteristics. According to the result of window material combustion test with wood, aluminum and PVC-U conducted by Zurich Fire Brigade on February 16, 1973, the PVC-U window had been proved to have no damage and met the "stipulations of combustible building materials used in high rise buildings". The PVC-U window could be used in all kinds of building regardless in other countries and is known and accepted as safety material by the Fire Brigade authorities in Australia, Germany, New Zealand, Switzerland and the United State.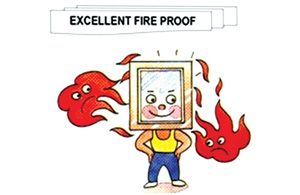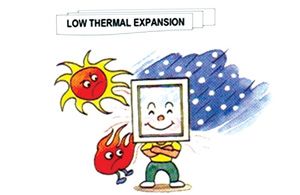 Low Thermal Expansion
PVC-U windows are easily operated even under any weather conditions due to its low coefficient of thermal expansion (3×1/10000 /deg C/cm). During summer the out door temperature is 45 deg. C. The maximum thermal expansion then is 0.36 m/m for 1.5 meter of profile. During winter, the maximum thermal expansion is 0.9 m/m for 1.5 meter of profile.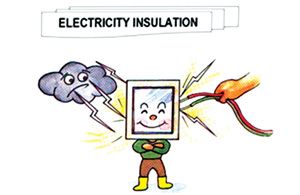 Electricity Insulation
PVC-U has high electrical insulation which exceeds 1015 ohms-cm. It is absolutely safe form electrical conductivity and maintenance free.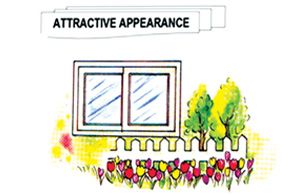 Alternative Appearance
PVC-U windows has smooth surface and welded corners with optional color combinations (Laminated or painted) which gives superior outlook.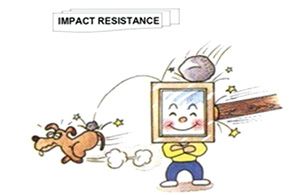 Impact Resistance
PVC-U Profiles are uniquely Designed and Specially Formulated to withstand high impact. It has an impact resistance of 3kg at 1m in height at 23 deg. C